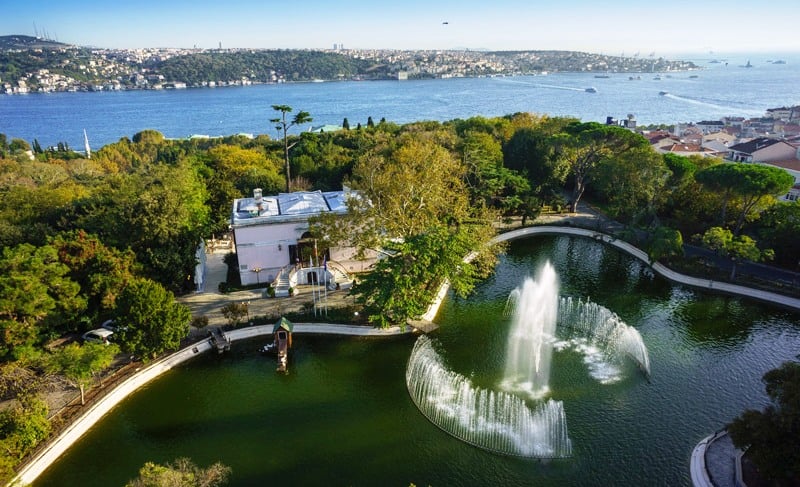 Civilization and urbanity are double-edged swords, where life is more functional and flexible. Ambition has no limits, but what about the green spaces that it is necessary to escape to from time to time to empty your mind, relax, and be able to charge your energy for a new week of hustling and hunting. Most notably is the peace that you will find under the sky of Istanbul, the most wonderful on the planet, with the sound of birds and the purest and most vital oxygen.
Therefore, we will create a slot of leisure and inner peace for you within Istanbul by writing and providing you with a checklist of the best national parks in Istanbul. Therefore you go to it and decide to return for pleasure visit weekly on every wearisome weekend.




1- Belgrad Forest (Belgrad Ormanı):
Location: Istanbul, at the European section, 15 km away from the center:
The Belgrade Forest is considered the main lungs of Istanbul city; the Belgrade Forest extends over ​​2000 square meters of revived green regions of the European section of Istanbul, northeast of the capital, 15 km away from the downtown. The forest is one of the most verdant destinations in Istanbul and the most mentally relieved; the oxygen in the Belgrade forests is the purest that helps cleanse the mind, heart, and spirit.
Many activities can be done in the forests of Belgrade, such as taking a family picnic, with a barbecue party, it is essential to know that the forest has a network of full facilities, there're specific areas designated for barbecue, shops to buy the necessary types of equipment, in addition to toilets, Garages, mosques as well, as well as places dedicated to volleyball or tennis, and a lot of entertaining activities that deserve a visit to the Belgrade forests.
Suppose you are on a quick visit to Istanbul and don't have enough time to rent a suitable family car for daily travels or internal ones. In that case, it's helpful to learn that buses carry you from the Taksim district to the Belgrade forests directly, at nominal prices.




2- Maçka National Park (Maçka Parkı):
Location: Istanbul, at the European section, Şişli municipality:
In the heart of crowded, energetic Istanbul, not far away from the fine fashion avenue Nişantaşi, there's a hidden park that waits for you to have early morning jogging or afternoon to walk your dog, nor having a cup of revivified coffee in a short Chairlifts trip, we're inventing you to explore Maçka National Park. The Maçka park located in the European section of Istanbul, precisely in Şişli municipality, Harbiye neighborhood, nearby avenue Nişantaşi, a unique location isn't?
The available activity is mainly suitable for sporty people who care about fittings and seek appropriate jogging tracks within nature—those who adore spending time with their doges in animal and environment-friendly places.
Maçka park owns its unique code of magic, while the entire park been designed upon a hill, in the form of dirt terraces, which allows you to watch all the stages of the sunset and sunrise of charming Istanbul, that's not all, the park has a cable car line that takes you on tour full of comfy and remarkable nature scenes, which we guarantee you will be unforgettable.




3- Yıldız Park (Yıldız Parkı):
Location: Istanbul, at the European section, Beşiktaş municipality:
once upon a time, Yıldız Park was a forest, then been converted into a private shoot-hunting field for the Ottoman Sultans.
Yıldız Park is one of the city's most extensive metropolitan parks, located in the European section of Istanbul, precisely in  Beşiktaş municipality.
We love to call it the majestic premium district; while you're enjoying the Paradise nature around, you will spend your day gazing in surrounding ottoman villas and mansions that add am the upper level of luxury to the entire scene.
Uncountable exercises can be done in Yıldız Park, such as groups picnic; it is essential to know that the park has a web of integrated services, shops, and a cafe, in addition to toilets, Garages, mosques as well,  walking tracks, and a lot of entertaining activities that make the Yıldız Park a worthy green destination to visit.




4- Nakkaştepe national park (Nakkaştepe Millet Bahçesi):
 Location: Istanbul, at the Anatolian section, Üsküdar municipality:
The heaven to be is the perfect slogan we can title the Nakkaştepe national park with, due to the Magical overall park design, the park located in the Anatolian section of Istanbul city, upon an Istanbulian hill, that looks over the entire town plus the suspended bridge of the Bousphoures, trust us you will capture uncountable while will astonish you with its magnificence.
As for the activities that can be done there, they are also uncountable and even impossible to enjoy in just one day, given the large interior spaces of the forest, there are two tennis courts, an indoor winter one, and another in the open air, there are restaurants and cozy cafes that meet the requirements of families within the weekend morning, and also for more enthusiasm and adrenaline there is the zipper line, which will enable you to fly over the Bosphorus and take the most beautiful and unforgettable selfie photos.




Anyway, we wish to be able to borrow your our eyes so you can explore our vision of the charming city; unfortunately, the magnificent sights in Istanbul can't be visited in one trip or even two because every day there's a new secret place to reveal, a different teste to enjoy. New song to dance on, in the park, or maybe beside the shore, anyway explore our checklist and inform us if you need more recommendations; we'll always be ready to serve you the way you deserve.

Lastly, we must draw your attention to the fact that our company has an admiringly professional team, which is entirely prepared to deliver its expertise in many fields; go ahead and send us an email or text us via WhatsApp, and our team will equip you with the necessary knowledge about real estate in Istanbul, whether a luxury villa by the sea, with private garage for your new Turkish car, or any other concerns about life in Turkey, Nature in Turkey, regulations, and laws of Turkey, we're here to assist you the way you deserve.